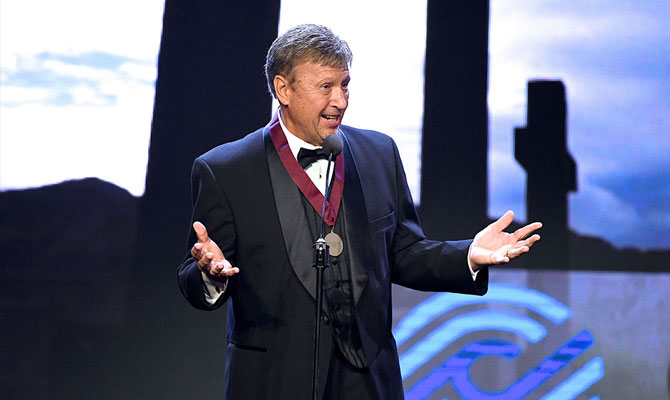 Gospel Music Hall Of Fame – "I'm Overwhelmed…"
On May 10, 2016, Howard Rachinski, Chairman and Founder of CCLI, was inducted into the Gospel Music Association Hall Of Fame at a special ceremony in Nashville, Tennessee. Here are Howard's personal reflections of the whirlwind experience.
The Gospel Music Hall of Fame Ceremony was an amazing, overwhelming experience! It was very humbling to be recognized in this special way – and it felt surreal.
The event began with a VIP Reception with past and current Inductees, Honorees and other dignitaries. We then transitioned to the dinner segment of the evening, where approximately 700 people were in attendance. Throughout the dinner, there were various video comments/congratulations that were extended by various artists to this year's Inductees – Bishop Hezekiah Walker, The Nelons, Russ Taff and myself. I was blown away hearing the personal video remarks from Lincoln Brewster, Aaron Shust, Darlene Zschech, Hillsong United, Paul Baloche & Chris Tomlin. I must confess that I was unable to eat the dinner (which looked great) due to sensory overload!!! After the dinner, the Hall of Fame Ceremony began. Amongst the many highlights, one of the funniest moments was when Bill Gaither did a video tribute to Russ Taff – you absolutely must see it on Facebook – it is hilarious! My personal segment of the Ceremony began with a very moving video tribute of CCLI, starting with the development of its prototype – StarPraise Ministries – at Bible Temple in the mid-1980s. It was a very precious stroll down memory lane…
Then, for the musical tribute to me, Ed Cash came up and led everyone in a worship medley – Holy Spirit / Lord I Lift Your Name On High / Shout To The Lord / This Is Amazing Grace / How Great Is Our God. I was overwhelmed with emotion as Ed led us in worship – a perfect reflection of our core mission. You could feel His Presence permeate the room. After this 10-minute worship time, Eddie DeGarmo gave the presentation speech, brought me up and "medallion-ed" me. Finally, they gave me 3 minutes to share from my heart…Yeah, right! I am pleased to announce that I spoke for exactly 3 minutes! :)
"It was an evening I will never ever forget…I was humbled and honored by this incredible recognition."
For 28 years, it has been my pure delight to pursue the Purpose that the Lord gave us – encouraging worship around the world. I realize that the Hall of Fame Induction singled me out as the recipient, but I full well know that it was not a one-person accomplishment. It was all of you: the CCLI staff—every employee that has worked at CCLI over the past 28 years, every songwriter and publisher we represent, and every single one of our 250,000+ affiliated churches and ministries in over 30 countries around the world that share in this honor. This recognition was a wonderful reflection of YOUR heart of service, YOUR dedication to our Vision and YOUR passion to empower worship around the world.
"Without a doubt…the best is STILL yet to come!"